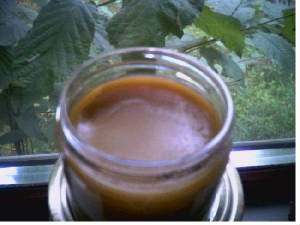 Tushie Salve
Considering how long a baby spends in a diaper, whether cloth or not, those sensitive little bottoms need immediate and natural relief, and protection. Our Tushie salve is zinc-oxide free, petroleum free, lanolin free, paraben free, and absolutely worry free!! Slather it on at night for a smooth-skinned morning, or use beetween diaper changes to keep your baby protected. Diaper rash and yeast don't stand a chance.
Don't hesitate to double this salve as a first aid ointment
for minor skin abrasions.
Contains:
Almond oil, XV Olive oil, Grapeseed oil, infused herbs
of Chamomile, Calendula blossom Plantain, Goldenseal root
(cultivated), Sandalwood powder, Vitamin E oil. No essential oils.
1oz white plastic jar ........$8.00
*In Stock*
Happy Baby!
Herbal Antiseptic Teething Oil
A perfect recipe of gentle herbs and
essential oils to help reduce inflammation
and discomfort due to teething. Calming and
slightly anesthetic, with a very mild and pallatable taste.
I haven't met a baby yet who didn't love it!
Contains NO Sugar, honey or other
artificial sweeteners. We've chosen the nutritive
herb Stevia to create a safe and gentle sweetness.
Contains:
St. Johnswort oil (infused by XV Olive oil),
Chamomile blossoms, Lemon Balm,
Peppermint, Stevia, Clove, Apricot Kernal oil,
pure essential oils of Peppermint, Roman
Chamomile and Clove, vitamin E.
*Not for internal use - only for topical gum
application in small, reasonable quantities.*
1/2 oz cobalt bottle.........$9.50
*In Stock*