Sweet Earth Bar
An absoultely perfect creamy sensual blend of Patchouli, sweet orange, Clove, red clay, honey, and ground oatmeal. Our most favorite bar of all! Gentle cleansing for the whole family.
Sweet Earth Bar.........5.50 each
In Stock 9/17/10
Tangerine Dream Luxury Soap

Shea Butter, Chamomile Flowers, Coconut Oil are combined with Tangerine, and Clementine essential oils to create this euphoric moisturizing soap that can be used as a facial or body cleanser. Soothing, uplifting and rich in emollients. Enjoy!
Tangerine Dream Soap..................5.50 each
In Stock..9/17/10
Balancing Bouquet Beauty Soap

The essential oil blend of Geranium, Clary Sage and Jasmine make this bar more than a cleansing soap. These floral scents have been used to help balance mood, calm the mind and tame the fluctuating emotions while balancing and soothing the skin. Cocoa Butter adds a moisturizing rich lather that brings beauty to the bath.
Balancing Bouquet Beauty Soap........................5.50 each
In Stock...9/17/10
Handcrafted Vegetarian Cleansing Bars with Pure Essential Oils. Enjoy the Aromatherapy as you bathe.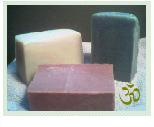 clockwise from left; Calming Vata ,
Spicey Woods, Sweet Earth ~

Spring Showers Cleansing Bar

Lemon grass and Spanish Sage Essential Oils bring a fresh cleansing fragrance that clears the cobwebs and the fog out of my head whenever I use this soap. The antiseptic and naturally disinfecting properties of these ingredients make this a great bar for all purposes. I keep it on my sink tray to fill the bathroom with fresh citrus like aroma.
Spring Showers Cleansing Bar...............5.50 each
In Stock 9/17/10
Purely Lavender Cleansing Bar..
With Lavender Flowers, Lavender Essential Oils and creamy Coconut Oil and Mango Butter. Soothing, antiseptic and fragrant soap to enjoy in the bath, shower or sink. The aroma fills the room and soothes the soul. A customer favorite.

Purely Lavender Bar..5.50 each
In Stock 9/17/10